Invictus Family Fun Day: 14th April 2018, 11:00 AM - 2:00 PM
Invictus Family Fun Day!​
​
Related News
New Prep class for students aged 5 years old, our new secondary Centrium campus for Grade 7 & 8, our new Centrium Bilingual campus.
Meet Invictus International School student Pravek Shrestha. You might remember Pravek from our Invictus Talent Show where he recited every element of the periodic table!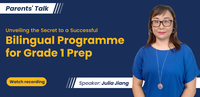 Unveiling the Secret to a Successful Bilingual Programme for Grade 1 Prep